Artikel 1 bis 1 von 1 auf Seite 1 von 1 anzeigen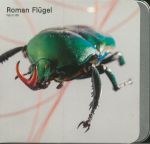 Cat: FABRIC 189. Rel: 16 Oct 17
Genesis P-Orridge & Psychic TV - "White Sky"

RiRom - "RoRic"

Tuff City Kids - "Tell Me" (feat Joe Goddard - Benjamin Frohlich long Journey remix)

Roman Flugel - "Troubled Mind"

Koehler - "Oblivious Pool" (Invisible dub)

Ishi Vu - "Lucid Dream"

Pale Blue - "Comes Home" (Pional remix)

Lawrence - "Clouds & Arrows" (Roman Flugel remix)

Two Of A Kind - "Like This"

Eamon Harkin - "Are You Listening?"

Red Rack'Em - "Mad House"

El Kid - "Kachinja"

Lanark Artefax - "Touch Absence" (Intimidating Stillness mix)

Randomer - "Juju"

Rebolledo - "WANT" (Danny Daze & Shokh Fears Come dub)

DJ Normal 4 - "Hu Strike" (feat FB Wibe)

Karma - "Cha"

Ghost Culture - "Perseus"

Fetnat - "Marbrahh"

Solitary Dancer - "Birth Of Saturn"

Bartellow - "Amnesia"

DHS - "Fascinating"
Review: It's over a decade since Roman Flugel made his first appearance behind the decks at Fabric. Given that the veteran German producer has been on the line-up countless times since, this contribution to the club's long-running mix series has been a long time coming. Musically, there are a few surprises - the post-industrial oddness of Genesis P Orridge and Psychic TV, the bass-heavy hardcore revivalism of DJ Normal, the dreamy broken beats of Koehler and Ishi Vu - but for the most part it's exactly what you'd expect from Flugel. That means trippy, early morning techno in all its forms, skewed micro-house, warehouse-friendly reto-futurism and dubbed-out Berlin wonkiness. It's a blend that results in a mix that's as entertaining as it is atmospheric (and it's very atmospheric).
…

Read more
Artikel 1 bis 1 von 1 auf Seite 1 von 1 anzeigen