Equipment
Artikel 1 bis 3 von 3 auf Seite 1 von 1 anzeigen
Cat: 494396 Rel: 14 Mar 16
Portable vocal booth for vocal isolation when recording - attaches directly to mic stand
Notes: Silence is bliss:
The new Portable Vocal Booth Flex, is the ultimate booth for portability. It's smaller than both the home and pro version and folds down to just 20cm in width, making it the ideal travel companion.

We all know the feeling, you've got your lyrics at the ready, computers on, microphones set up, you've recorded the perfect take..., it's time to listen back to the recording. If only you get the quality to sound as dry and as perfect as a studio recording. Well now you can, and why not take advantage of our limited offer which will run out soon.

Your Studio Series Portable Vocal Booth Flex Edition attaches itself to your own microphone stand and allows for great recording conditions every time. The specially moulded foam has been shaped and processed in a way which not only helps to create dry vocals, but to also prevent exterior noise such as traffic noise or air conditioning entering into your mic. Create your own soundbooth studio today.

If you don't have your own stand, you'll be happy to know we offer a compatible stand at great value, simply add it during check out.

The most portable vocal booth:
The Vocal Booth Flex edition is the perfect travelling Vocal Booth and folds down so can easily fit into a backpack or bag. It also features a great clamping system, which allows it to be attached to any microphone stand you or anyone else owns. So whether it's recording at home, or in a studio which needs better acoustics, this is the product for you.

*microphone sold separately
…

Read more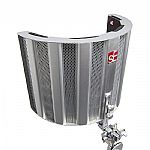 Cat: 538574 Rel: 16 Jun 14
Vocal recording reflection filter with patented multi-layer air-gap technology
Notes: Space takes the Reflexion Filter to another dimension!

sE Electronics Space takes the patented Multi-Layer Air-Gap technology that made the RF Pro a professional and project studio essential to create a product that is both bigger and better!

While other manufacturers haven't even come close to replicating the design and performance of the RF Pro, we've now set the bar even higher. Space or Specialised Portable Acoustic Control Environment, has a larger surface area, designed to offer incredible isolation in any room for professional vocal and instrument recordings. By surrounding more of the microphone, Space limits the amount of direct sound reaching walls and, ultimately, reflecting back towards the microphone.

Space's design consists of an unprecedented 10 thick layers of sE's patented Multi-Layer Air-Gap technology, and the inclusion of seven new vertical bass pillars deepens the air gaps while adding randomisation of diffusion. Space also boasts new mounting hardware, providing a more robust clamp that's fully adjustable and lockable vertically and horizontally with the ability to tilt for instrument recording at any angle.
…

Read more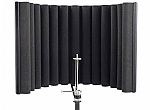 Cat: 473805 Rel: 19 Nov 12
Reflexion filter portable vocal booth
Notes: Unwanted audio ambience may be generated if working in untreated acoustic environments when recording and this naturally affects the quality of any signal captured via microphone. 6 years ago, sE Electronics were the first company to develop a solution to this commonplace problem and launched the highly successful Reflexion Filter RF-Pro. sE Electronics are proud to announce that recently they were awarded a US patent for the design standard and this applies to all sE Electronics Reflexion Filter products, including the RF-X.

The sE Electronics RF-X is the latest high- performance acoustic filter joining sE's highly-acclaimed line of successful and industry standard Reflexion Filter products. Using the same US patented design technology as the RF-Pro the RF-X has been conceived to answer the needs of the discerning recording artist working on a budget. With a new lightweight body and re-designed lightweight clamp assembly the RF-X is simplicity itself, providing unbeatable performance and ease-of-use.

New materials have been developed to make it lighter than its predecessors but also to maintain its durability, helping to position RF-X as a versatile product suited for any challenging working environment. It features a 4-layer acoustic filter design comprising the outer composite panel itself, a wool fabric layer, an air gap layer and an inner acoustic foam layer. This multi-layer design with air gaps differentiates the RF-X from its competitors by helping to ensure that recordings exhibit almost zero sound coloration when using the filter.

The RF-X clamp assembly also utilizes a new lightweight design allowing it to be used on almost any microphone stand. It has been simplified to achieve this and allows vertical mounting only, making it the perfect solution for vocal recording.

…

Read more
Artikel 1 bis 3 von 3 auf Seite 1 von 1 anzeigen