Artists
Artikel 1 bis 2 von 2 auf Seite 1 von 1 anzeigen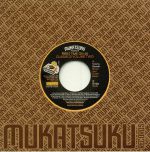 Cat: MUKAT 057. Rel: 02 Apr 18
Funk
Tommy Stewart - "Bump & Hustle Music"

Bridge - "Stella"
Review: It seems strange that Tommy Stewart's seminal rare groove funk anthem 'Bump And Hustle Music' has never had a 45 release, but Mukatsuku has set out to address this issue with Volume 2 of their 'First Time On A 45 Classics' series. On the flipside we find Bridge's sublime version of 'Stella' via the originally unreleased album 'Crying For Love' - recorded in Boulder, Colorado in 1981. First Experience reissued that album in 1999 but this is the first time 'Stella', written by Paul Tillman Smith has been made available as a 45. Juno copies come with an exclusive hand-stamped inner sleeve and branded card outer sleeve. DJ support from Red Greg,Fleamarket Funk,The Allergies, 45Live, Peter Croce, Boca 45 and Snowboy etc
…

Read more
Gespielt von:
Mukatsuku Records Chart
,
The Allergies
,
TiTo (Troubled Kids Records)
,
Rudy's Midnight Machine
,
Calagad 13
,
Faze Action
,
Voodoocuts
,
DJ MOAR_JAY AIRINESS (Venice Beach)
,
Marc Hype
,
Osmose
,
I Love 45's!
,
SOUL 45
,
Justin Gg Green
,
SIMON OZBIZTON
,
Ear Trumpet (The Weekend Soul)
,
Red Greg
,
Professor Shorthair
,
Soul Music
,
45 Live
,
LEGO EDIT
,
Dynamite Cuts
…

Read more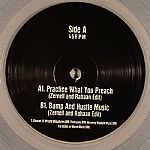 Cat: UBR 11305. Rel: 22 Oct 12
Disco/Nu-Disco
Practice What You Preach (Zernell & Rahaan edit)

Bump & Hustle Music (Zernell & Rahaan edit)
Review: The Luv N' Haight Edits series launched in style earlier this year, enlisting Nico Jaar and 78 Edits to rework two Mike James Kirkland classics to tie in with the annual Record Store Day festivities. This second volume sees Chicago duo Rahaan and Zernell tackle music from Tommy Stewart's self titled 1976 album, recently reissued by the Ubiquity sub label. If you're not familiar with Stewart's work then you need to check that LP, one of the defining releases of the pre-disco era and two of its highlights are given respectful touchdowns on this clear 12". There's an obvious deftness to the way Rahaan and Zernell loop up the intro bars of "Practice What You Preach" before dropping in those killer strings and then launching into the song itself, while the dirty funk of "Bump & Hustle Music" is only made more apparent by the duo's subtle arrangements. Big 12" for the discotheques!
…

Read more
Artikel 1 bis 2 von 2 auf Seite 1 von 1 anzeigen