Labels
Artikel 1 bis 3 von 3 auf Seite 1 von 1 anzeigen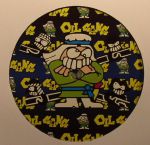 Cat: OILGANG 012. Rel: 18 Jan 16
Dirty Dubstep/Trap/Grime
Ballys On (4:12)

Time (5:36)

Oil Gang (4:39)

Floating (5:07)
Review: Fresh from his cavalcade of beats on WPF, Dullah makes his Oil Gang debut and it's every bit as shiny and slick as you'd expect as toxic dollops of drama hang of every cinematic dynamic. Instant hench appeal is created with the strings on "Ballys On", sci-fi synths seduce the cosmic mover in the most chiselled of Gs on "Time" while Oil Gang get their own theme tune by way of floaty synth chimes and a classic b-boy bass funk. Throw in the self-fulfilling "Floating" and you've got yourself a winning document. Never a Dullah moment at Oil Gang eh?
…

Read more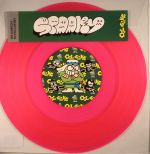 Cat: OILGANG 013. Rel: 07 Nov 16
Dirty Dubstep/Trap/Grime
Fiesta (4:39)

Cherry (4:42)
Review: Absolute damage: Spooky finally unleashes two of his biggest summer dubs. And he's doing it in pure pink vinyl style. Fiesta slaps with a well-known sample before hopping onto the gulliest skank of his life. The groove says party, but the bass says murderation. Flip for an even fruitier piece of funk as Eric Donaldson's reggae classic gets the murking it never knew it needed. Make no mistakes: Spooky is donning it right now.
…

Read more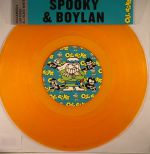 Cat: OILGANG 014. Rel: 07 Nov 16
Dirty Dubstep/Trap/Grime
Low Rider (3:47)

All Black Winter (4:40)
Review: Deep grime instrumentals; few labels are doing it like Oil Gang. The clue's in the title - the tight-knit London crew are dealing strictly in sinister, seeping, dark, slick sounds. This one's even darker than usual as Spooky drops the aggro and goes straight in with the deep dagger dynamics. All stealth-like and creepy, "Low Rider" isn't a track you want on your headphones walking home through the wrong postcode at night. Boylan ups the energy with a stampier twist the rhythm and a dramatic riff croaking from the humanized bass tones. Badness.
…

Read more
Artikel 1 bis 3 von 3 auf Seite 1 von 1 anzeigen