Labels
Artikel 1 bis 2 von 2 auf Seite 1 von 1 anzeigen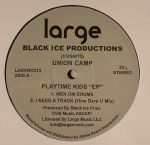 Cat: LARVNC 013. Rel: 27 Jul 15
Deep House
Men On Drums (6:55)

I Need A Track (How Dare U mix) (7:03)

West Digital-Plate 808 (7:09)

Fresh Melody (7:04)
Review: Classic Chicago house from 1993 via Night Club Records on this nice re-issue (courtesy of Large Records) unearthing another important zeitgeist from the Windy City. "Men On Drums" sampled Submission's "the Dominatrix Sleeps Tonight" long before Cevin Fisher did. "I Need A track (How Dare U)" laid down the foundations for ghetto house and ballroom without even knowing it. "West Digital Plate 808" took influence from A Guy Called Gerald and 808 State more than it did of their hometown heroes Phuture, strangely enough. "Fresh Melody" took on a deeper vibe that could of made it on to Prescription or Cajual back in the day. Essential listening.
…

Read more
Cat: LAR 100. Rel: 27 Apr 15
Deep House
Return 2 Acid (10:12)

Return 2 Acid (acapella) (7:10)

Planet Sonic (3:39)
Review: Iconic Deep House label Large Music returns to the vinyl market with a limited repress of the classic Kerri Chandler release Return 2 Acid. First pressed in 2005, this was the 100th release on Large and has been out of print for 10 years. The A side features Kerri's powerhouse tribute to the glorious days of Acid House laced with driving beats and an incessant 808 acid line. On the flip side Kerri goes old-school, this time with an electro Afrika Bambaataa influenced jam entitled Planet Sonic. Also included for this special reissue is the unreleased Acapella of Return 2 Acid solidifying this as a true collectors item.
…

Read more
Artikel 1 bis 2 von 2 auf Seite 1 von 1 anzeigen