Artikel 1 bis 2 von 2 auf Seite 1 von 1 anzeigen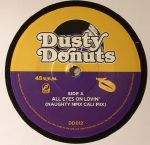 Cat: DD 012. Rel: 30 Jun 17
Funk
All Eyes On Lovin' (Naughty NMX Cali mix) (3:32)

Keep Your Head Alright (RUNEX Zapped Up mix) (4:10)
Review: More DJ-friendly cut-ups and mash-ups from the Dusty Donuts camp, whose modus operandi seems to be the pursuit of dancefloor carnage. Naughty NMX is the producer at the controls on side A, delivering a "Cali Mix" of "All Eyes on Lovin" that effortlessly joins the dots between woozy sunshine disco, sugary soul and punchy electrofunk. It's the sort of track that will sound superb booming out of sound systems at sun-baked daytime parties. RUNEX handles the B-side, underpinning elements from a couple of similarly saucer-eyed blue-eyed cuts with punchy, hip-hop style beats and well-placed effects. It's effectively yacht rock for the MPC generation, which is no bad thing in our book.
…

Read more
Cat: DD 013JIM. Rel: 16 Apr 18
Hip Hop/R&B
Flamboyant Move (Naughty NMX & Marc Hype reflip) (3:31)

I Don't Understand Love (Naughty NMX & Marc Hype reflip) (4:36)
Review: More hot-to-trot edit goodness from Dusty Donuts, a seven-inch series aimed firmly at DJs who spin breakbeat-driven funk, soul and disco. These two "re-flips" are the work of Marc Hype and Naughty NMX, two hip-hop loving Berlin veterans who can trace their careers back to the turn of the '90s. On the A-side you'll find "Flamboyant Move", a swirling, string-laden chunk of disco-era soul goodness toughened up with the addition of fat new hip-hop beats, contemporary rap samples and some carefully placed dub delays. They push the envelope further on side B, utilizing string-laden chunks of a soaring disco-soul classic in a loved-up, head-nodding hip-hop workout that should appeal to all those who like their beats served with a big dollop of celebratory, peak-time flavour.
…

Read more
Artikel 1 bis 2 von 2 auf Seite 1 von 1 anzeigen