Labels
Artikel 1 bis 2 von 2 auf Seite 1 von 1 anzeigen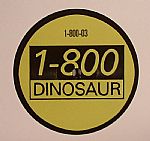 Cat: 1800 03. Rel: 15 Sep 14
Deep House
Bala

Reggae Drums
Review: In keeping with the personal ties that drive the curation of 1-800 Dinosaur, Mr Assister makes his debut release following time served as James Blake's live drummer. The two tracks on offer are certainly no slouches in the rhythm department, based around rootsy African percussion while stitched to a contemporary house template. "Bala" also piles on plenty of authentic chimes that add to this notion, coming on like a smart edit without necessarily chopping up an original track, shuffling away on fine layers of handclaps and shakers with an admirable mastery of the less-is-more attitude. "Reggae Drums" is a fuller affair with a more prominent house groove helped no end by a punchy bass line, while the wistful pad line that lingers in the background adds a sizable amount of romance to the track.
…

Read more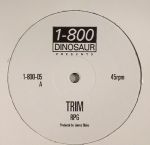 Cat: 180005. Rel: 20 Jun 16
Dirty Dubstep/Trap/Grime
RPG (2:45)

Man Like Me (3:03)
Review: James Blake temporarily downs tools as a melancholic sub-pop crooner to pick up close to where he left off with releases on Hemlock and Hessle Audio back in the day. For his own 1800 Dinosaur label he invites Javan St. Prix, aka grime MC Trim, to spit rhymes like "I surf waves most men drown in" over Blake-made digital vibraphone tones and syncopated, computer game basslines. On the flip, Trim, who's appeared on Keysound, Butterz and R&S in the past, dons the gloves for a second round called "Man Like Me", this time produced by Airhead who strips the melodies back for shuddering beats and strange, jingling percussion. Fresh.
…

Read more
Artikel 1 bis 2 von 2 auf Seite 1 von 1 anzeigen