Artikel 1 bis 2 von 2 auf Seite 1 von 1 anzeigen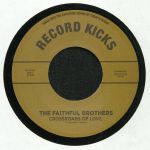 Cat: RK 45073. Rel: 14 Jun 18
Soul
Crossroads Of Love (2:36)

One More Time (4:05)
Review: Fresh to the Israeli groove scene, new eight piece troupe The Faithful Brothers bring a surging sense of soul to the party with two authentic cuts that sit alongside the likes of Charles Bradley or The Ephemerals. Rich in sentiment, powerful instrumentation and produced with warmth, "Crossroads Of Love" has an energetic northern soul style stomp and swing while "One More Time" is a much slower, swooning emotional rollercoaster. An immaculate debut.
…

Read more
Cat: ED 002. Rel: 15 May 17
Soul
Downtown, Uptown (feat Carmi Shimron) (3:03)

Night Man (2:08)
Review: Coming through with some storming late 60s vibes, The Faithful Brothers have taken us by storm here at Juno HQ, and this sweet little 7" is like a time-machine back to the days when freedom and hedonism were something to be taken seriously. The group, a new outfit emanating from Germany, launch on the exciting Elb Digger imprint to give the label another fine addition to their increasingly zesty catalogue. "Downtown, Uptown" features Carmi Shimron and her magnetic voice riding high above a sea of fast drum rolls and a vintage soul groove for the lovers; "Night Man" has a bit more of a crescendo to it and, driven by less vocals than the A-side, the tune revels in its horns and brass, retaining that sun-kissed the 60s feel with a bit more of a jazzy twist.
…

Read more
Artikel 1 bis 2 von 2 auf Seite 1 von 1 anzeigen