Artists
Artikel 1 bis 3 von 3 auf Seite 1 von 1 anzeigen
Cat: PHONICAWHITE 018. Rel: 30 Apr 18
Deep House
Travelling Without Arriving

Travelling Without Arriving (Ge-ology Nite Stealth Ninja mix)
Review: We're barely a quarter of the way through the year and it already seems like Peggy Gou is going to be one of house music's heroes of 2018. Here, the Berlin-based South Korean follows-up her brilliant Once EP on Ninja Tune (which included the soon-to-be-an-anthem brilliance of "It Makes You Forget") with a new 12" for Phonica White (a label she first graced back in 2016). "Travelling Without Arriving" is a rubbery, sun-kissed deep house treat rich in elastic bass, toasty chords, glassy-eyed synthesizer melodies and dreamy, drifting electronics. On the flipside, Brooklyn beat-maker GE-OLOGY serves up a superb alternative version which retains the track's gentle positivity and breezy melodiousness while dragging it further towards futurist techno territory.
…

Read more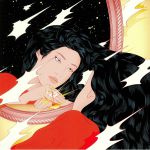 Once
(12")
(1 per customer)
Cat: ZEN 12483. Rel: 05 Mar 18
Deep House
It Makes You Forget (Itgehane) (6:35)

Hundres Times (6:54)

Han Jan (6:21)
Review: Berlin-based Korean Peggy Gou has been surprisingly quiet since first bursting onto the scene back in 2016. Here, she returns to action having graduated from Technicolour to parent label Ninja Tune. Many may already have heard EP standout "It Makes You Forget (Itgehane)", a percussively ambidextrous beast based around a bouncy, off-skilter, snare-heavy rhythm track. It has been much discussed online after Gou included it her recent Resident Advisor podcast. On the B-side you'll find tracks representative of her developing style, which draws together elements of European deep house, electro, early '90s U.S house, the rubbery disco eccentricity of Maurice Fulton and the instinctive polyrhythms more often found in traditional African music.
…

Read more
Cat: NNFP 004. Rel: 28 May 18
Deep House
Peggy Gou - "Shero"

Juju & Jordash - "Throwdown"
Review: "For our next release we team up with fellow nonprofit UN Women in support of #HeForShe arts week; a solidarity campaign which explores the power of the creative arts as a means to shatter stereotypes and allow all genders to reach their full potential.

Featuring the beautiful sonic soundscapes of the super talented Peggy Gou and Juju & Jordash, the release is housed in fully printed sleeves with bespoke cover artwork courtesy of The Line Girl.

A fundraiser event will also take place at London's Oval Space on Sunday 11th March 2018 featuring daytime talks & panels curated by Resident Advisor, Mixcloud, AIM & shesaidso, and a evening soundtracked by Peggy Gou plus more.

All profits donated to UN Women UK.

EVERYBODY HAS NEEDS.

xxx

bobby@needsnotfprofit.com
https://www.soundcloud.com/needsnotforprofit/
https://www.facebook.com/needsnotforprofit/

Cover Art by The Line Girl
Designed by Jacob Chabeaux
Mastered by Optimum
Distributed by Juno
PR by For The Record"





…

Read more
Artikel 1 bis 3 von 3 auf Seite 1 von 1 anzeigen