Mihail P
Artikel 1 bis 2 von 2 auf Seite 1 von 1 anzeigen
Cat: VR 004. Rel: 28 May 18
Deep House
Subliminal Wave

Phayse Distance

Memory Upgrade

Permission To Dream
Review: Plug in and dream? .... Lullabies for Robots continues the run of fine EPs on Verdant Recordings exploring the melodic, deeper side of techno. This release a split shared by Vancouver's ESB known for his meandering soulful analogue jams. Verdant Recordings has been lucky to sign two exquisite tracks. 'Subliminal Wave' is R2D2 getting off to an acid groove whilst 'Phayse Distance' holds a more relaxed droid after party vibe. On the other side Mihail P is back for Verdant after his debut appearance on Emerald City. Memory Upgrades features warm bumping percussion underneath a joyful hook. Memory Upgrades is a masterful piece of delicate electronica with references back to Warp's seminal Artificial Intelligence series. Another beautifully presented EP on heavy vinyl and printed sleeve with artwork by Sophie O'Leary: perhaps the best cover of the series to date?





…

Read more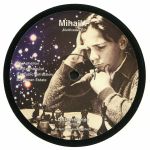 Cat: DWT 003. Rel: 14 May 18
Techno
Aphelion (5:05)

Earthbound (5:53)

Cubic Refraction (6:40)

Ocean Estate (6:15)
Review: Mihail P first came to light on respected label Seventh Sign before popping up just recently on Verdant Recordings alongside ESB, and now he's back once again with the Multiverse EP on Distant Worlds. His influences are clear, from the elegant melancholy and attention to detail of early UK techno to the snappy electro rhythms of Drexciya, and he exercises those influences brilliantly on each of these four tracks. There are abundant tender synth lines criss-crossing intricately programmed drum machines in a true celebration of machine soul, all shot through with a heavy-lidded ambience that makes for some of the most captivating techno out there at the moment.

…

Read more
Artikel 1 bis 2 von 2 auf Seite 1 von 1 anzeigen