Artikel 1 bis 3 von 3 auf Seite 1 von 1 anzeigen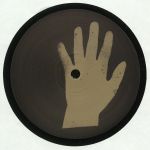 Cat: WOLFEP 042. Rel: 16 Oct 17
Deep House
Cascinari (5:30)

Nisantasi (6:04)

Priet (6:04)

Queen Of Tacos (with FYI Chris) (5:38)
Review: Having spent the last 12 months sharpening his disco credentials via a variety of re-edit EPs and sample-heavy "secret weapons", Medlar is back on Wolf doing what he does best. In this case, that means sparse, drum machine driven electro/proto house fusion ("Cascinari"), delay-heavy, stripped-back analogue house blessed with dreamy chords and grime style lo-fi synth-strings ("Nisantasi") and Ruf Dug style dancefloor sweetness seemingly created using forgotten old synthesizers, dusty drum machines and a solitary TB-303 ("Priet"). Excitingly, the EP's final track - a bustling fusion of beatbox electro rhythms, layered breakbeats, heavy bass and yearning chords - is a studio hook-up with similarly well-regarded producer FYI Chris.
…

Read more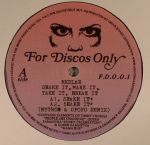 Cat: FDO 001. Rel: 27 Feb 17
Disco/Nu-Disco
Shake It (8:21)

Shake It (Mytron Ofofo remix) (4:47)

Tonight (6:41)

Imaginary Dub (4:24)
Gespielt von:
RiCHARD.GEAR (Whiskey Pickle)
,
Dark Circles
,
Jimpster
,
KAT Djs
,
Replika (Deso, Swedish Brandy)
,
Mike W - Kolour LTD
,
Ritesh (Adult Contemporary)
,
In Flagranti
,
Neil Diablo
,
Martin Brew
,
Kenny Wisdom
,
Bress Underground
,
Cyclist
,
PBR STREETGANG
,
25 Places
,
Shaka (KolourLTD, Balance Alliance)
,
Louis Hughes (Two Deep)
…

Read more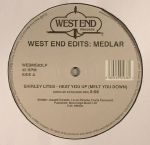 Cat: WEBMG 02LP. Rel: 03 Apr 17
Disco/Nu-Disco
Shirley Lites - "Heat You Up (Melt You Down)" (Medlar extended edit) (8:08)

Love Club - "Hot Summer Nights" (Medlar dub edit) (6:18)

Kenix - "There's Never Been (No One Like You)" (feat Bonny Youngblood - Medlar edit) (7:29)

Sweet Life - "I Get Lifted" (Medlar dub) (5:52)
Review: On this officially licensed release, Wolf Music regular Medlar gets a chance to rework some of his favourite West End Records tracks. He's done a fine job, too, delivering reworks that suit contemporary dancefloors, while paying due reverence to the superb source material. He begins by rearranging and extending Shirley Lites' most famous moment, the boogie-era brilliance of "Heat You Up (Melt You Down)", before slicing together bits of the vocal and instrumental versions of Love Club's steamy electrofunk slammer "Hot Summer Nights". On the flip, he heads towards more traditional disco territory, first cutting up Kenix's sweet hearted "There's Never Been (No One Like You)", before reaching for the dub effects on a brilliant revision of Sweet Life's "I Get Lifted".
…

Read more
Artikel 1 bis 3 von 3 auf Seite 1 von 1 anzeigen