Artists
Artikel 1 bis 2 von 2 auf Seite 1 von 1 anzeigen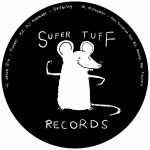 Vol 1
(180 gram vinyl 12")
Cat: ST 001. Rel: 11 Sep 17
Deep House
Jesse Bru - "Futaki"

DJ Aakmael - "Offering"

M Vaughan - "Reel Recognize Reel"

Moony Me - "Taurora"
Review: Super Tuff makes an impressive debut straight out of Brooklyn with M. Vaughan at the helm, and it looks like high grade deep house is on the menu judging by the quality spread across this first 12". Jesse Bru is up first with the steady cruising "Futaki", featuring a great speech by Tom Waits about crooked trees. DJ Aakmael gets into a bouncier concoction on "Offering", and then it's down to label boss Vaughan to push an agenda of tough NYC flavoured grooves splashed with dusty soul and jazz tones in an utterly infectious style. Moony Me then finishes off the EP with an acid track that features swooning strings and some deft drum play.
…

Read more
Gespielt von:
Vincent Inc
,
Replika (Deso, Swedish Brandy)
,
Dj Aakmael (Unxpozd)
,
Jacques Renault
,
Kisk
,
Monsieur Cedric (Serie Limitee)
,
Spilt Milk
,
Mike W - Kolour LTD
,
Evan Michael
,
Fog
,
Lola Allen
,
Better Listen Records
,
25 Places
,
M. Vaughan
,
Thomas wood
,
Ari Bald
,
Tilman
,
DJ Heure
…

Read more
Cat: ST 003. Rel: 22 Jan 18
Deep House
DJ Heure - "Ra"

Hot Coffee - "On The Verge"

M. Vaughan - "Man 2 Man"

Tilman - "A Day To Remember"
Review: All aboard the Super Tuff 003! This vinyl only V/A sails from the Brooklyn docks at dawn. Walking up the gangplank first is our lead cartographer, Australia's DJ Heure, carrying the blueprints for "Ra"ia tropical, ambient cut that grows into a swell of birdsongs and synthesizer swells. Stoking the coals in the boiler room is Hot Coffee, a Richmond based producer who fires up "On the Verge" for his vinyl debut. The aggressive and furiously anthemic tune pushes the EP past rough seas and sails us safely through the night. As morning arrives on the B-side, ship captain M. Vaughan throws a life-raft overboard with the chugging, yet delicate "Man to Man." And with time running out for the motley crew, Austrian navigator Tilman sets his compass for the sunset, keeping morale soaring with "A Day to Remember" ia finale track brimming with beautiful Rhodes work and tender spoken words.
…

Read more
Artikel 1 bis 2 von 2 auf Seite 1 von 1 anzeigen