Artikel 1 bis 3 von 3 auf Seite 1 von 1 anzeigen
Cat: MOODY 002. Rel: 20 Mar 17
Deep House
Ola Do Mar (7:04)

Sweepy Hollow (6:30)

Got Away Clean (feat Peach Orbit)

Soul Chop (feat Wenzel Dashington)

Deep Dive
Review: The output of German producer Lucky Charmz is usually reserved for local imprint Lehult but here the Hamburg/Lisbon/Lund based fellow is back on Moody for the Seaside Greetings EP. Starting out with the dreamy and sampledelic deep house of "Ola Do Mar" or the cheeky disco-funk edit of "Sleepy Hollow" which has a very familiar hook. On the flip "Got Away Clean" goes for some lo-slung/slo-mo house for a change of tempo, as does the aptly titled "Deep Dive" for some truly emotive soulfulness.
…

Read more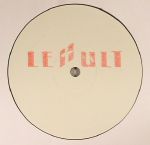 Lehultsub2
(limited hand-stamped 12")
(1 per customer)
Cat: LHLTSUB 2. Rel: 20 Feb 17
Deep House
Tony Rainwater - "One Touch" (3:12)

Tony Rainwater - "Let's Celebrate Less Hats" (3:13)

Lucky Charmz - "My Love 4 U Will Neva Die" (6:27)
FORTHCOMING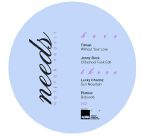 Cat: NNFP 002. Rel: 20 Nov 17
Deep House
Tilman - "Without Your Love"

Jonny Rock - "Oldschool Funk Edit"

Lucky Charmz - "Sun Mountain"

Pletnev - "Babunde"
Review: Needs is a not-for-profit record label & collective lovingly curated by Bobby Pleasure.

We believe in people. The concept of the label is to use music as a medium to spread love, unity and the idea of giving back. Promoting harmony and togetherness rather than isolation and estrangement, each release and accompanying event will act as a support stream to various issues within society such as mental health, homelessness and equality.

For the second release we have tracks from Tilman, Jonny Rock, Lucky Charmz & Pletnev. Four artists from different countries of the world who all have the needs factor, and have very kindly donated their music to the dancefloor.

All profits from this release will be donated to the homelessness charity Crisis.

EVERYBODY HAS NEEDS.






…

Read more
Artikel 1 bis 3 von 3 auf Seite 1 von 1 anzeigen