Artikel 1 bis 3 von 3 auf Seite 1 von 1 anzeigen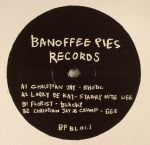 Cat: BPBL 01 1. Rel: 20 Jun 16
Minimal/Tech House
Christian Jay - "Rhotic" (7:12)

Larry De Kat - "Starry Nite Life" (6:06)

Florist - "Blacky" (5:59)

Christian Jay & Crump - "GG3" (7:14)
Review: Bristol's Banoffee Pies are back with their 11th edition. But as far it goes musically: this certainty ain't Bristol! Starting out with the smoothly reduced tendencies of local lad Christian Jay's "Rhotic" which sounds inspired by the sounds of Trelik, there's more of the same (albeit much dubbier and smoked out) on "Starry Nite Life" courtesy of Utrecht's Larry de Kat; very paranoid afterhour vibes on this one! On the flip we've got some more dubbed out fare courtesy of Christian Jay, again, who enlists a bit of help from Crump on the rusty and dust coated "GG3". All Caps artist Florist adds a touch of Vancouver to proceedings with the squelchy DJ tool "Blacky."
…

Read more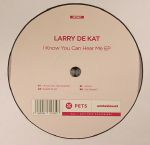 Cat: PETS 077. Rel: 20 Mar 17
Deep House
I Know You Can Hear Me (7:13)

Naakte Groef (5:15)

Amlou (7:15)

She Doesn't (5:32)
Review: Dutch producer Larry De Kat is building up a rather impressive discography. This Pets Recordings debut follows hot on the heels of appearances on Dungeon Meat, Banoffee Pies, Adults Only and Lazare Hoche, amongst others. There's plenty to admire amongst the four tracks, from the post-apocalyptic deep house creepiness of "I Know You Can Hear Me" - all weighty sub-bass, echoing riffs, garage-influenced beats and dusty aural textures - and fluid, tech-tinged deepness of "Amlou", to the shuffling dub-house hustle of "She Doesn't", where ear-catching hand percussion and slowly flowering electronics crowd around a superb, sub-heavy bassline. In other words, it's a rock solid collection of club-ready cuts that ticks a lot of boxes.
…

Read more
FORTHCOMING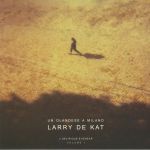 Cat: DNIP 01. Rel: 06 Nov 17
Deep House
Do For Love (feat Juno)

Sprookjesbos

So Damn Fine

Se Io (feat Juno)

Enjoy Losin'

Lanero Voleva Una Hit
Review: The founders of // DELIRIOUS EYEWEAR and Katnip met each other through the exchange of music and fashion. They became close friends and as you'd expect this would lead to this unique product you're about to preview. Heavy on the downtempo italo disco, dub and soul cuts, once again LdK provides the listener with an exquisite track selection and also found the privilege to introduce a fresh newcomer in the scene called "Juno" on vocals and some hot keys by Thomas van Dijk. The releaseparty for this album will be in Milan with an exclusive liveshow from de Kat including the whole band. Something to look forward to! Tip!





…

Read more
Artikel 1 bis 3 von 3 auf Seite 1 von 1 anzeigen